SEI 'HOMEBUILT WIND GENERATORS' WORKSHOP OCTOBER 2001
SAN JUAN ISLANDS, WASHINGTON, USA

This first SEI workshop on 'how to build a wind turbine' was a success. Here are some pictures of the processes and personalities. It's a long page with over 60 pictures, so take your time :-)

THERE WILL BE ANOTHER COURSE AT THE SAME LOCATION ON 14-19 APRIL 2003
CONTACT Ian Woofenden FOR DETAILS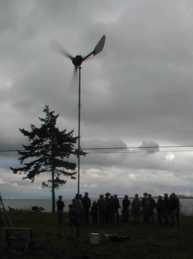 I am grateful to Solar Energy International, and especially to Ian Woofenden for making this happen. (Many of the pictures below are Ian's). Ian lives on Guemes island in a renewable powered home in the woods. He uses AWP36 and Whisper 1000 wind generators on 100+ foot tree-top towers as well as PV. Ian is also Senior Editor, in charge of text content at Home Power Magazine. I am also lucky to have him as a good friend.
Future workshop courses will take place in Scotland (February and May 2003), Wales (October 2002 and 2003 at CAT) and again in the USA (14-19 April 2003).

---
THIS PAGE CONTAINS
MAIN PAGE (YOU ARE LOOKING AT IT)
BLADE CARVING PAGE
BRAKEDRUM ALTERNATOR CONSTRUCTION PAGE
AXIAL FLUX 'PMG' ALTERNATOR CONSTRUCTION PAGE

---

Our target was to complete at least one wind turbine and make substantial progress with several others. The next photo shows the most of the class grouped in front of the wind machine which reached the stage of being assembled and tested. The rotor blade diameter is 8 feet (2.4 m) and it drives an axial flux 'air gap' type of alternator similar to the one described in the document at http://www.scoraigwind.co.uk/pmgbooklet/ We also worked on two brakedrum-type wind machines based on the Ford F250 brakedrum and 9 foot diameter propellers. In the background you can see Win Anderson's shop where the work took place.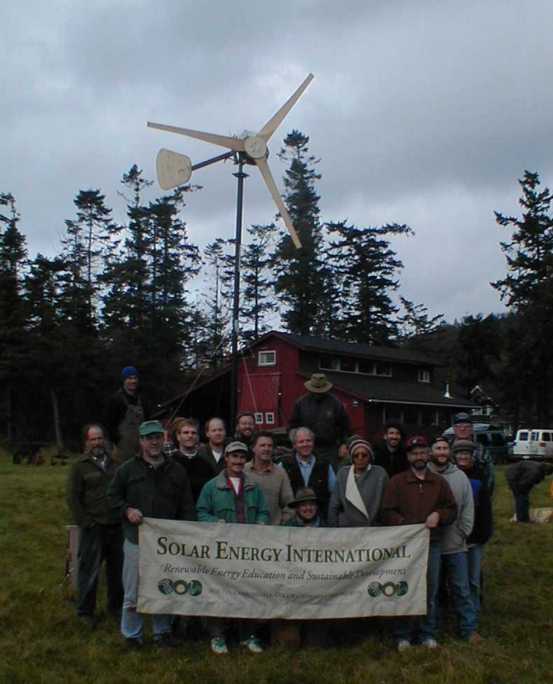 Most of us stayed at Guemes Island Resort - Hugh Glass brought his own windpower from Utah.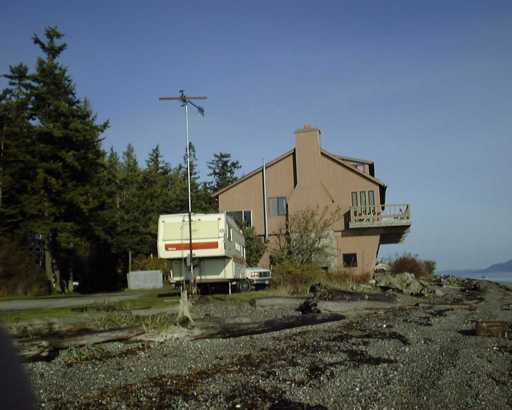 Here is Win Anderson the shop owner giving up his valuable time to guide the students in wood carving techniques. We are most grateful to Win for the use of his spacious and well equipped wood shop, and the adjoining covered area for metal working.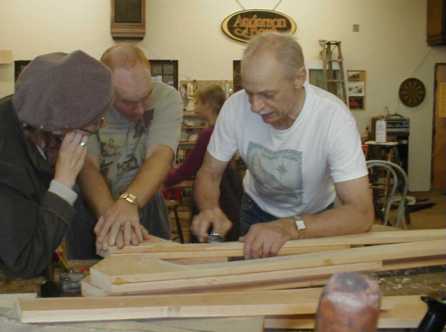 Brian Faley was our plastic and electrical shop supervisor. He is a senior engineer at Trace Engineering (now part of Xantrex), and more than overqualified for the task. I for one learned a load of useful stuff working with Brian and we all appreciate his helping out.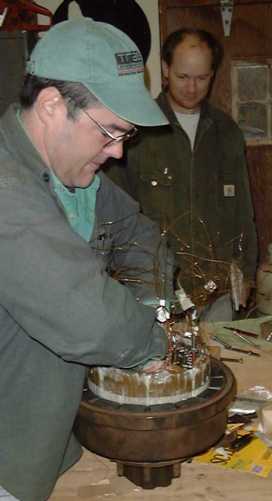 ---

We covered a certain minimal amount of theoretical stuff each day.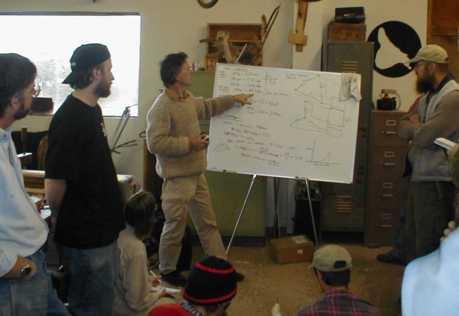 We were very fortunate to have Tod Hanley from Bergey Windpower on the workshop. He explained some tricky concepts such as 'low Reynold's Number airfoil design'. His BWC XL1 turbine is a big leap forward in small wind turbine design. Thanks for coming, Tod.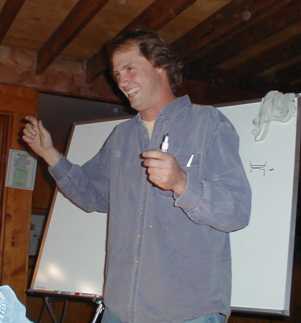 ---

The steel components took shape under the watchful eye of local blacksmith and
metalworking master Andy Gladish (left).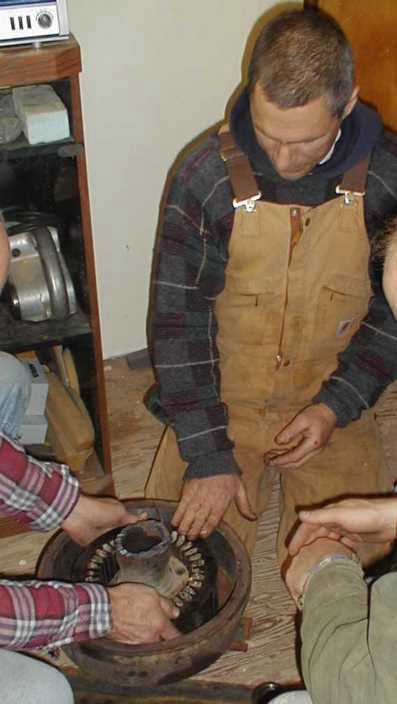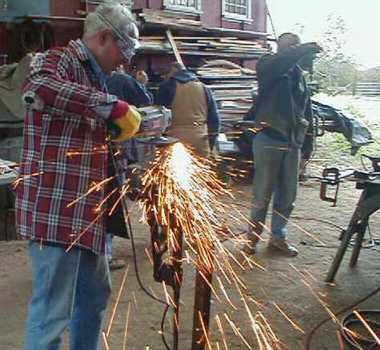 Ron Richardson (right) of Kettle Falls WA was a great asset in the metal shop.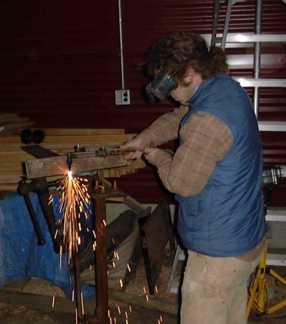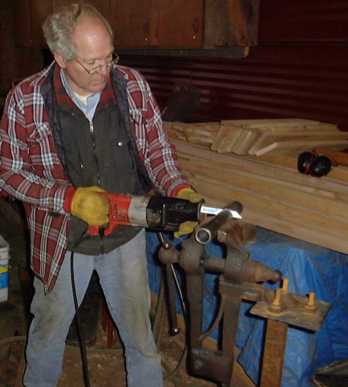 ---

Robert Preus of Abundant Renewable Energy brought an AWP36 wind turbine to show the class. He also gave us a wide ranging talk centred on the theme 'the physics of wind energy'. Robert is retailing the AWP in the USA. Below left is Robert with Ian Woofenden the workshop organiser, looking at the improved yaw frame of the latest AWP machine.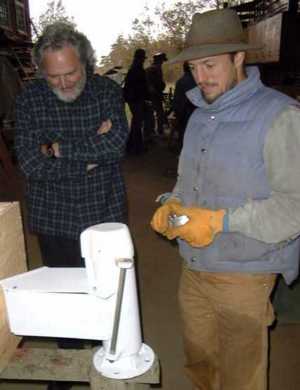 ---

Larry Rice brought his video camera from Missouri, and gathered some footage for his TV stations (channels 25KNLJ and 24KNLC) during the workshop. On the left he interviews fellow student Brooks Tuttle, and on the right the famous author Paul Gipe. Paul came to tell us about his independent small wind turbine testing program - a heroic task which deserves all our support.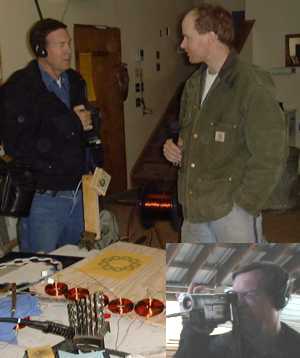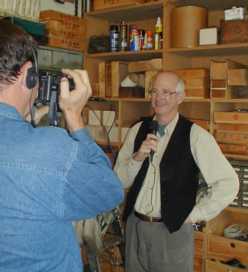 ---

Randy Brooks of Brook Solar
came down from Chelan WA with a short tower to test and demonstrate the self-built machine on. thanks Randy!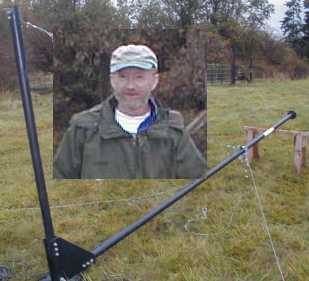 ---

Kelly Keilwitz of Whidbey Sun and Wind brought the necessary parts and saw his machine completed during the course, and plans to erect it at his home in Coupeville WA.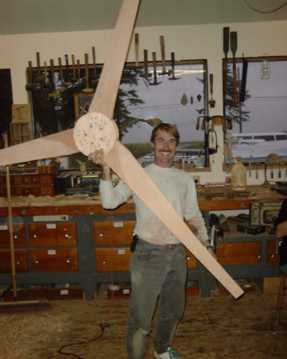 Two other students brought parts for brakedrum machines:-
Gaetan Ayotte (Ontario) and Dan Whitney (Apple farmer from WA -- thanks for the apples Dan!)

---
Hugh Glass and Tod Hanley are assembling Kelly's completed wind turbine.
The wiring and rectifiers go under a small aluminium weather-shield.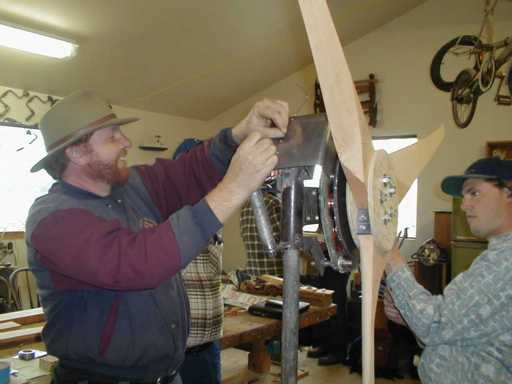 Hugh fits the tail. Note Andy's artistic scrollwork on the tail boom.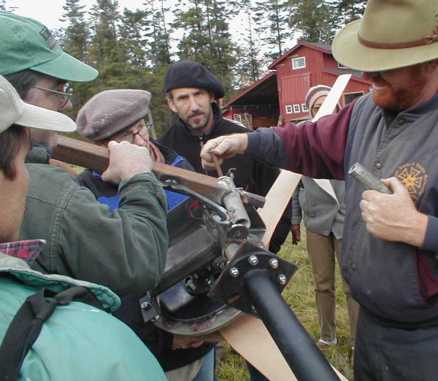 Below is the class erecting the machine by hand. This is not a very safe or satisfactory way to raise a wind machine, but it happened very fast, and for a very short tower it can be a fun way to do it.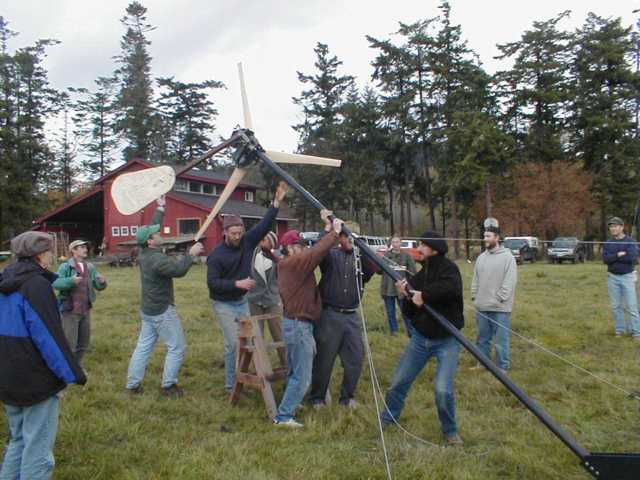 Here you can see the complete machine in action. You can almost see through the air gap between the magnet rotors. We observed outputs around 100-200 watts in windspeeds around 10-15mph.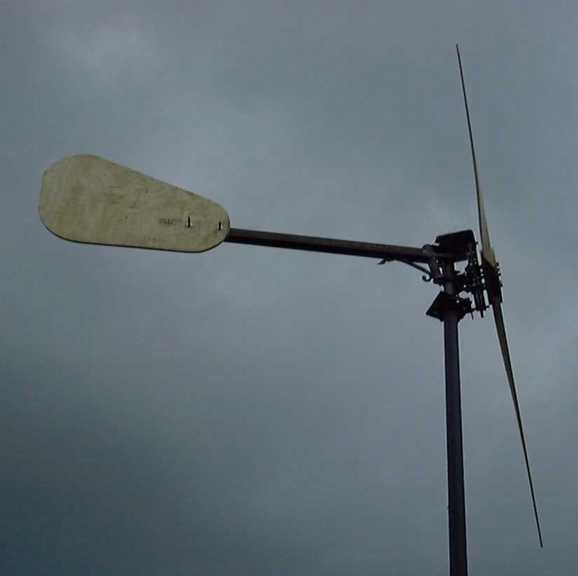 Dan Whitney later put his brakedrum machine up on a hilltop to power a radio mas. The bus headlights are the dump load.