Wind turbine construction course at Krug SARL, Limoux, France, 15-20 November 2004
BLADE CARVING PAGE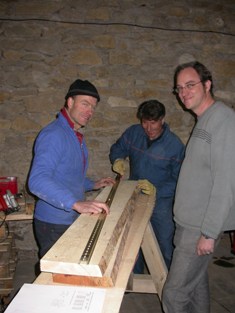 Joris, Serge and Olivier.
We had some nice wood, although rather unseasoned. We did have problems with the tip warping on one blade.
In future it would be better to cut the rough shape out first and then leave the piece to change shape for a few days before cutting the all-important blade angle (drop).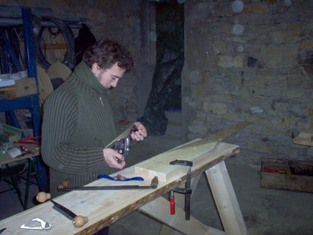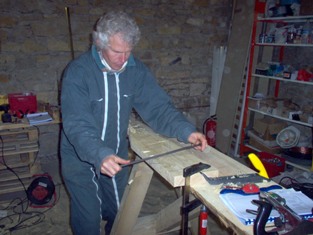 ---
3 metre diameter blade rotor for Limoux workshop November 2004
station

radius

(from centre)

chord width

drop

thickness

1

250 mm

200 mm

45 mm

44 mm

2

500 mm

200 mm

42 mm

31 mm

3

750 mm

130 mm

15 mm

17 mm

4

1000 mm

100 mm

7 mm

13 mm

5

1250 mm

85 mm

4 mm

10 mm

tip

1500 mm

70 mm

2 mm

8 mm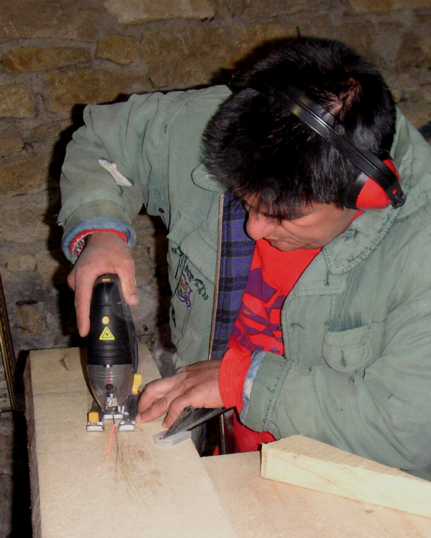 Joël cutting the basic shape with a jigsaw. This is rather slow and we mostly used a circular saw.
---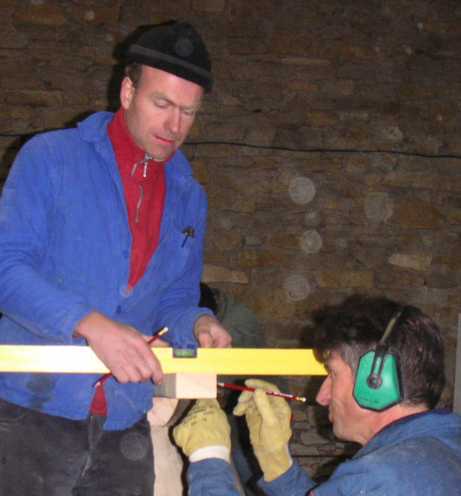 Joris and Serge mark the drop using a spirit level. This is a good technique if the wood is not flat.
---

Here Manu and Guillaume use the same trick but with the addition of a nut at the leading edge to bridge over a hump.
They had to add the thickness of the nut to the drop measurement.
---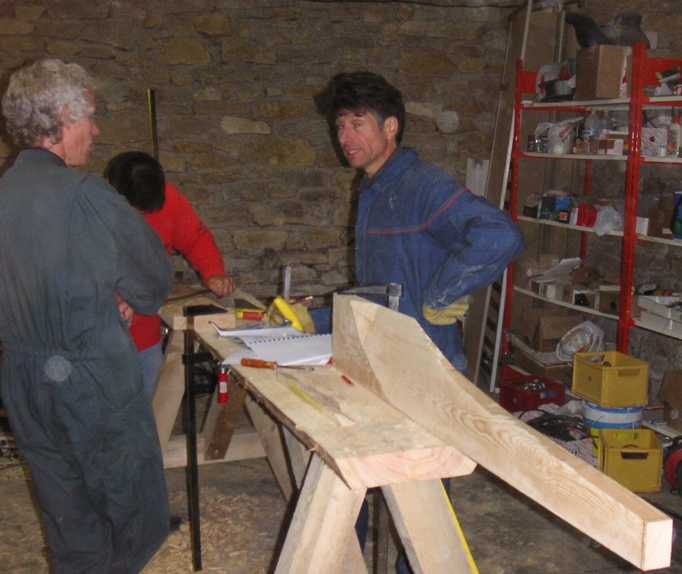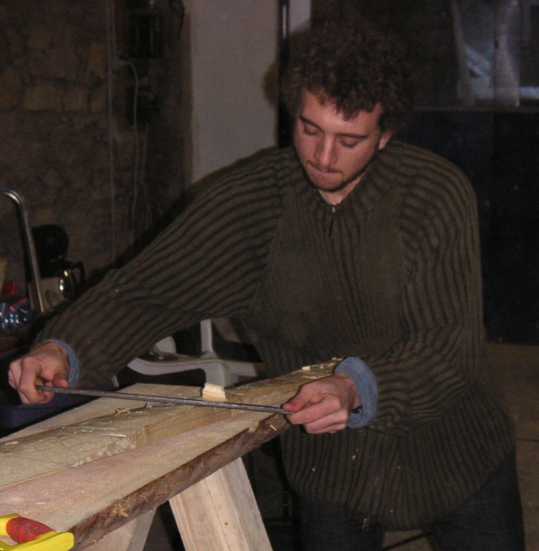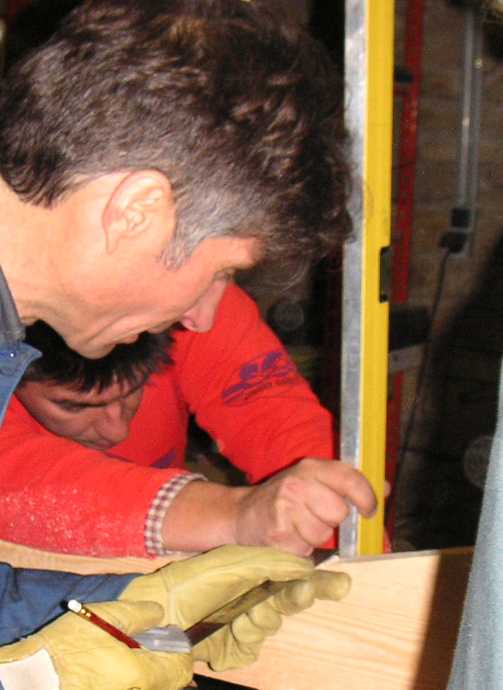 Serge and Joël using a vertical spirit level to check drop. Easier to read the ruler.
---

Joël uses a surform rasp to work the wood. It leaves a rough finish!
---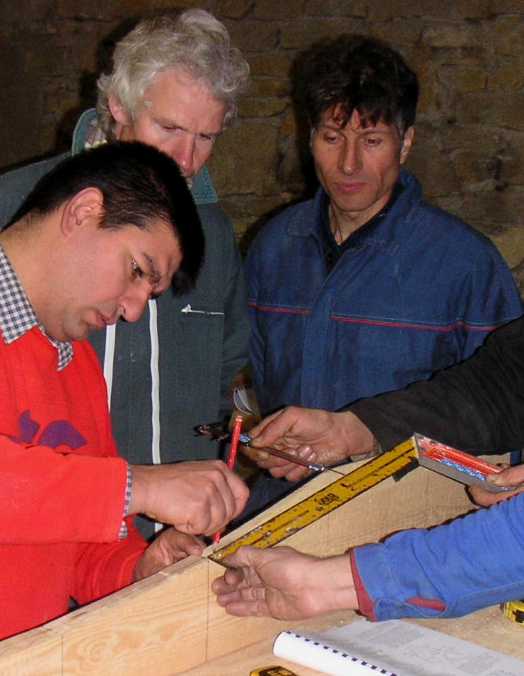 Extending the line that marks the thickness along one side of the blade.
On this trailing edge side, the line can only go so far because the piece of wood becomes too thin to mark the full thickness on it.
The calipers set the correct thickness measurement at the next station (in space) and Joël draws the line as far as he can.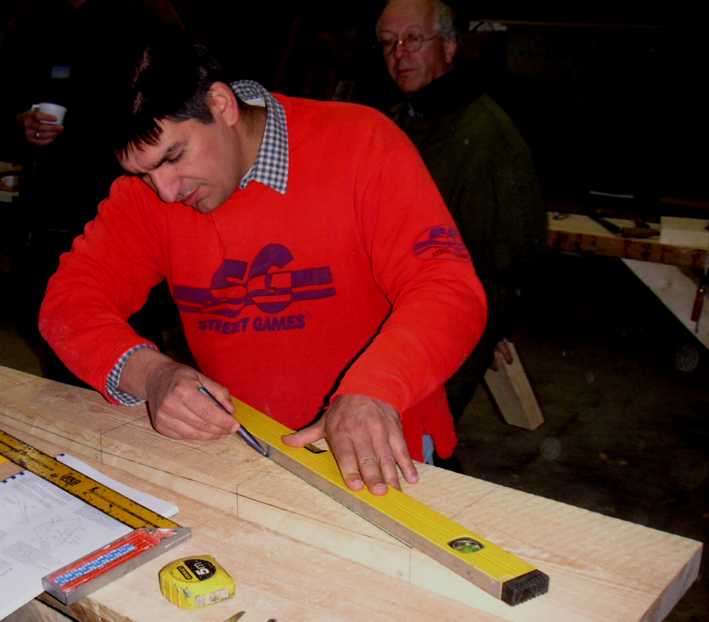 Then he draws another line from that point to the end of the leading edge thickness line at station 1.
All the wood above the lines will be cut away up to the new line Joel is drawing.

In the end, what matters is that the blade should be the correct thickness at a point 30% away from the leading edge, and the back should be parallel to the front until it is later carved into a nice curve.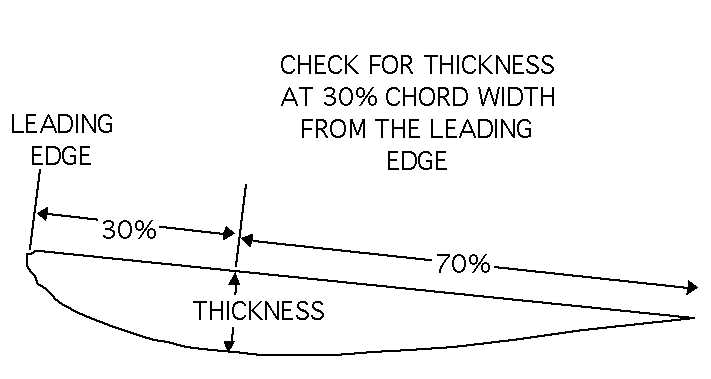 ---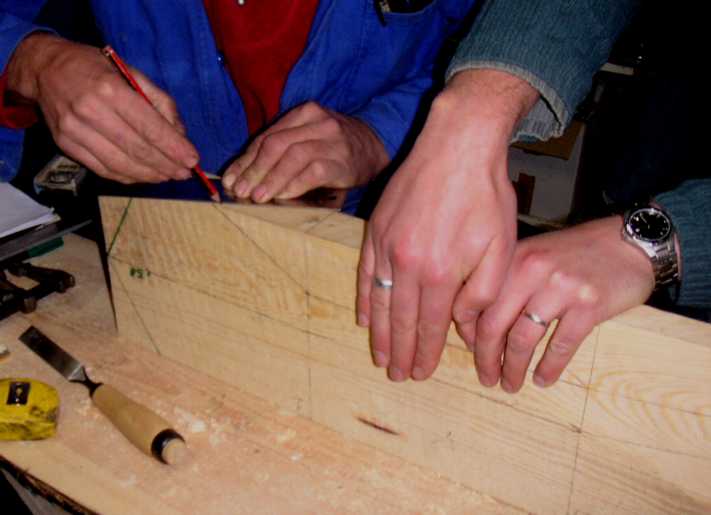 Marking out the end of the leading edge curve inside station 1. The curve runs out where is meets the hub disks.
---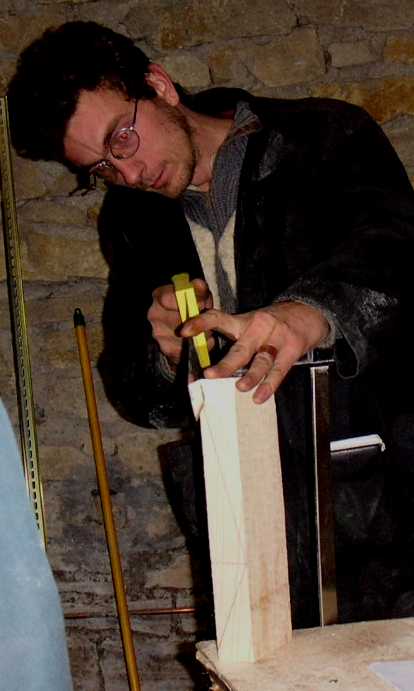 Thomas cuts a wedge.
---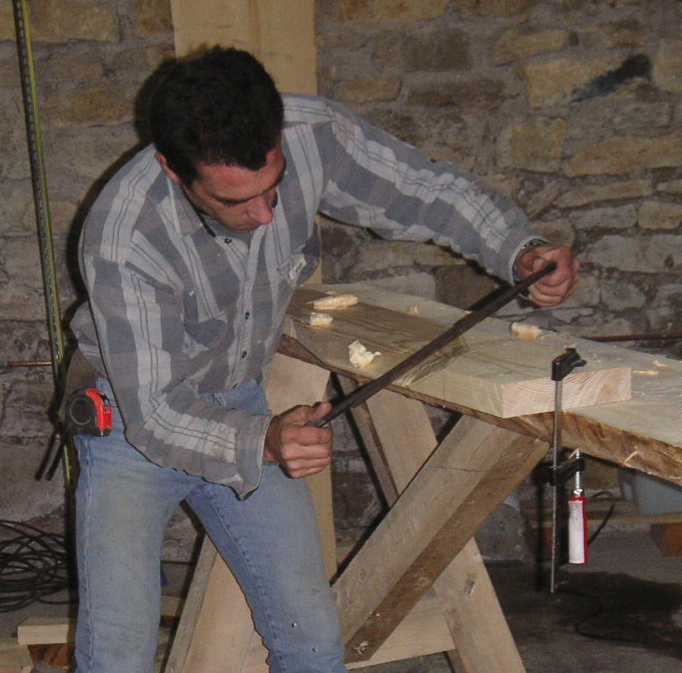 Manu in action with the draw knife.
---

Checking that the front face is flat.
---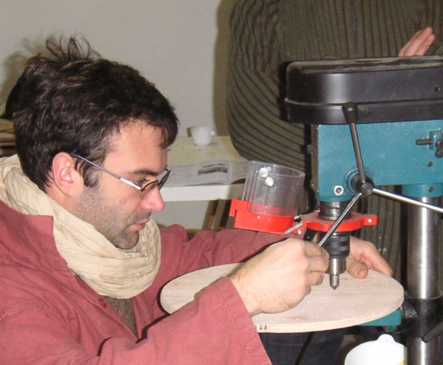 Christophe countersinks the screw holes in the disks.
---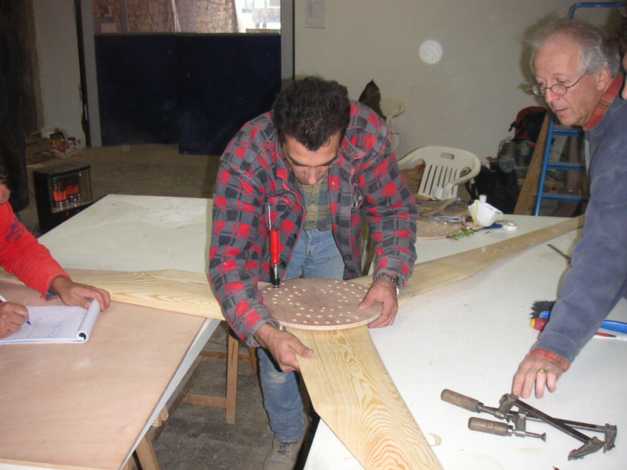 Manu and Giorgio assemble the hub.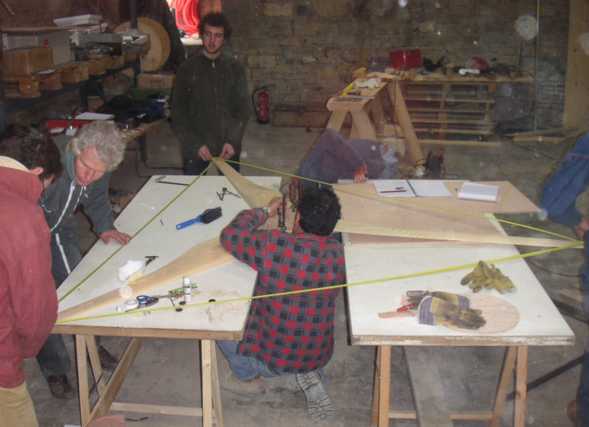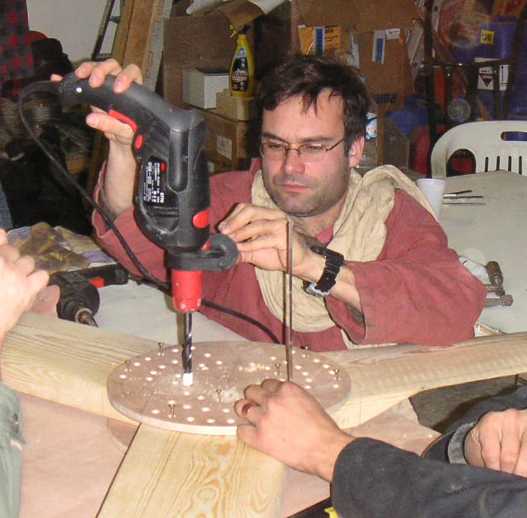 Marking the bolt holes through the rear disk.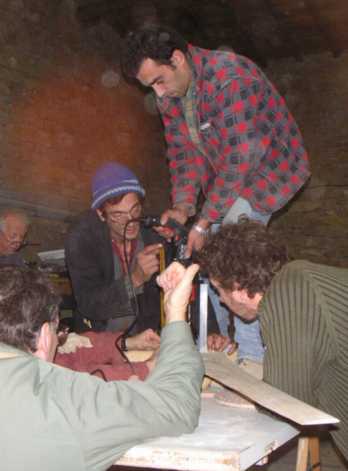 Manu drills out clearance holes in the blades for the bolts.
---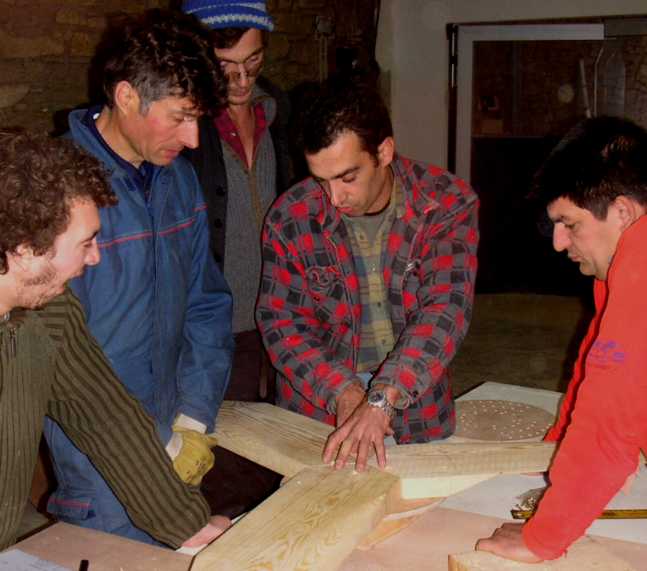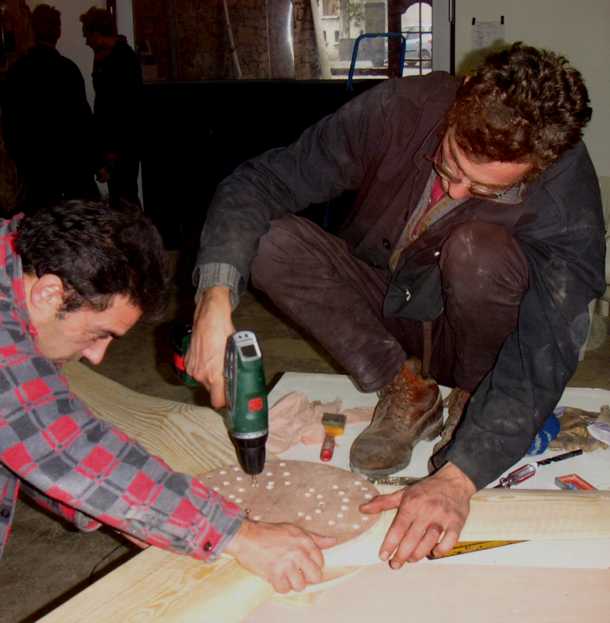 Thomas inserts screws.
---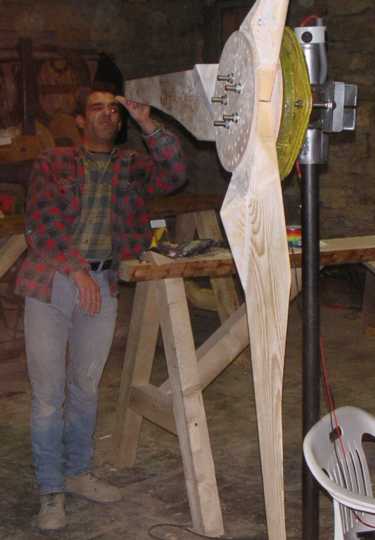 Manu checks the angles.
---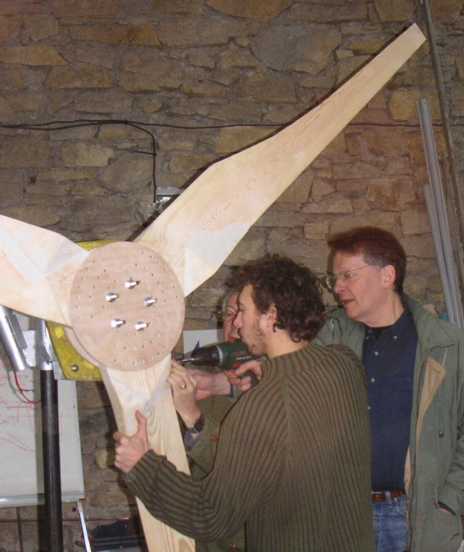 Yves and Benoît fit a balancing weight.