SEI Homebuilt wind generators workshop
Guemes Island WA USA in April 2004
Main picture page
Thanks to Ian Woofenden for providing many of the pictures on these pages.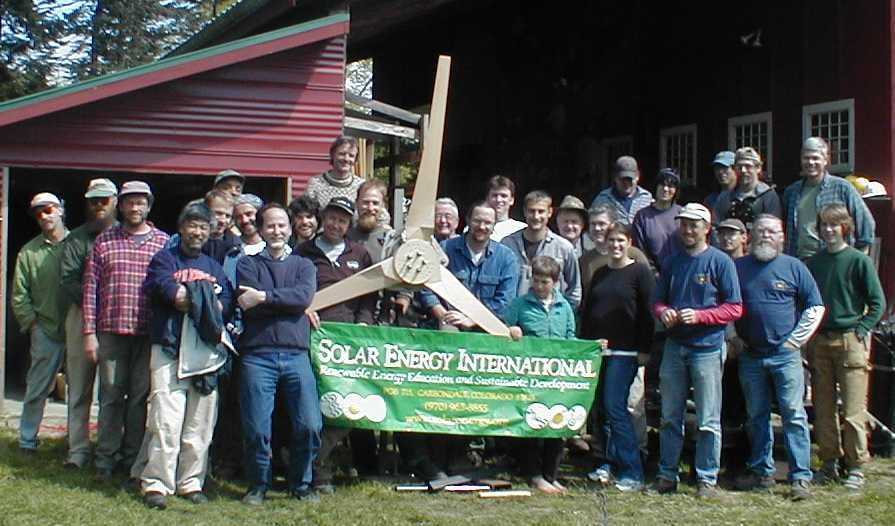 This year we had 22 students and 8 staff .
We built a couple of 8 foot machines (as above) and a new 12 foot design (below).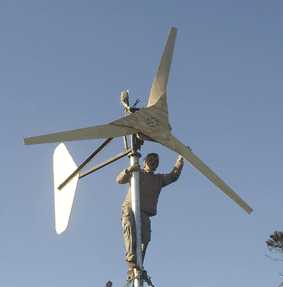 ---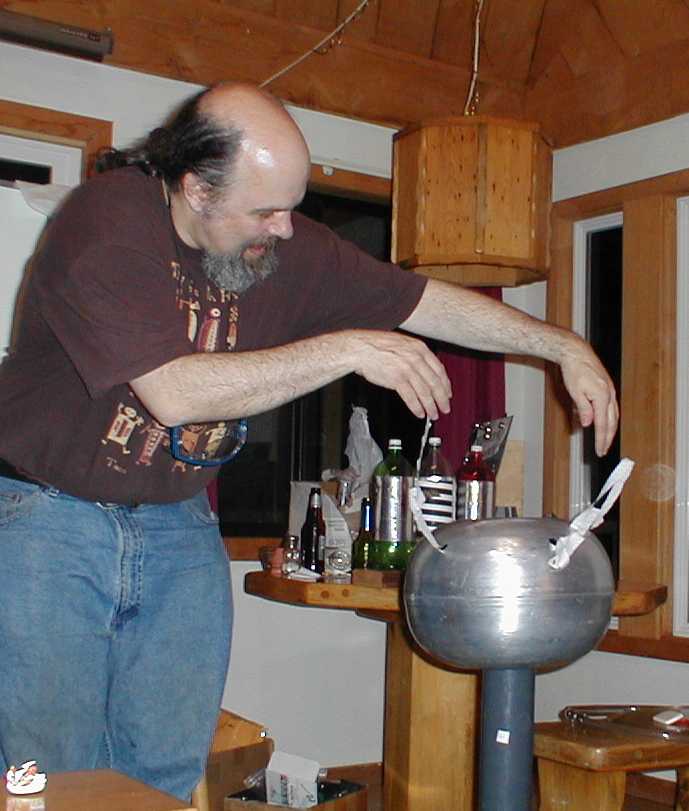 Evening speakers included Bill Beaty the Science hobbyist guru
---

and the Dans from Wondermagnet in Colorado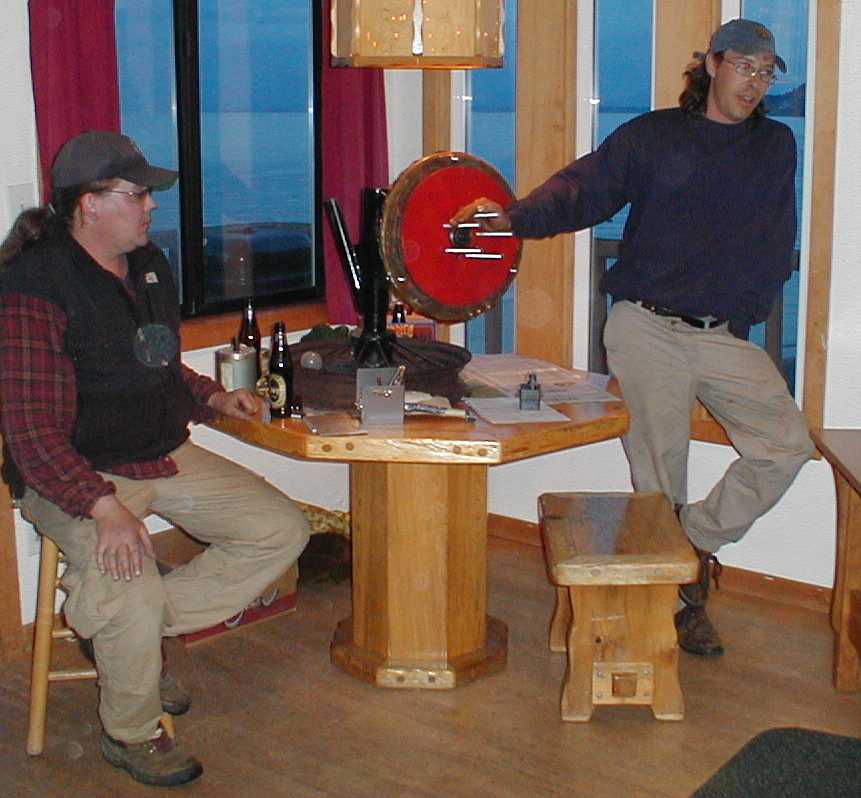 The staff.. Brian Faley, Hugh Piggott, Ian Woofenden, Andy Gladish, BJ Daniels, Michael McGuinness, Dan Bartmann and Dan Fink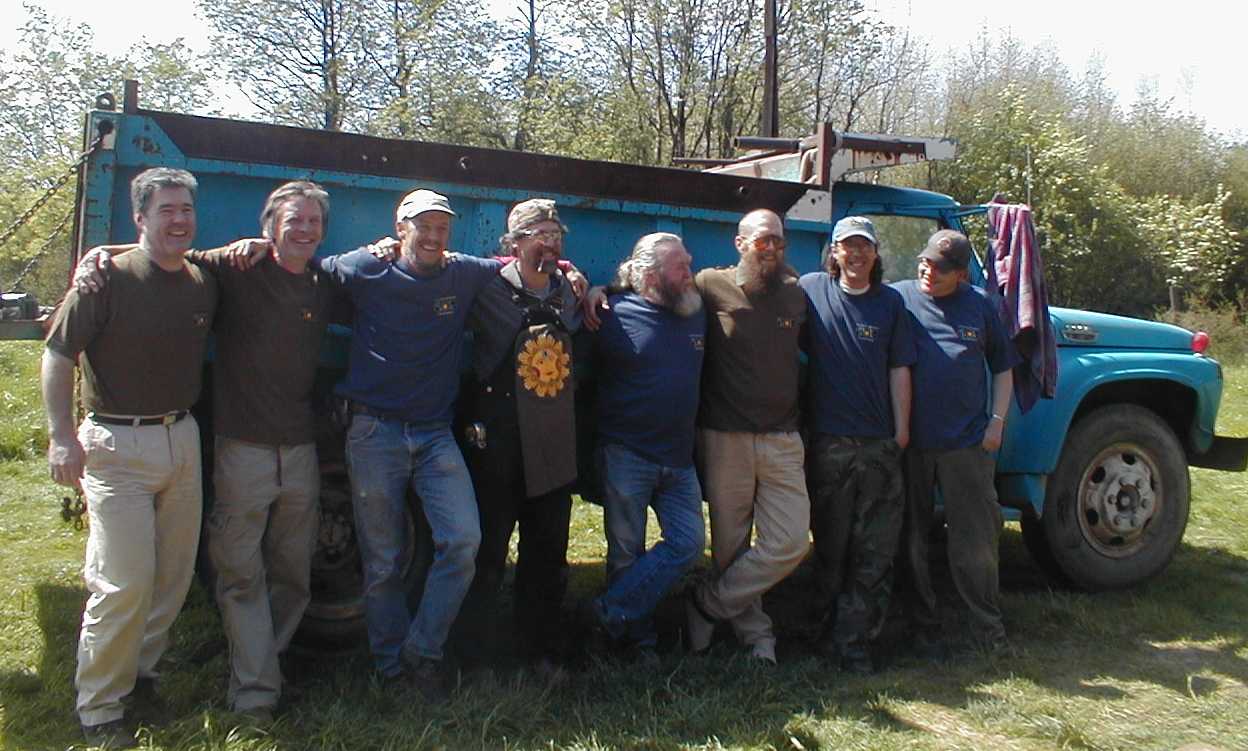 ---

One of last year's machines at Win Anderson's Store on the island. This is an eight foot (2.4 metre) diameter machine with a tail shaped as a map of the island. We took it down (80' tilt-up tower) on the first day to have a look and do some basic maintenance, (not that it really seemed to need it). This was a good introduction to the project for those who had not seen this stuff before. This machine had produced 250kWh since records started on 1st December - about 2kWh per day.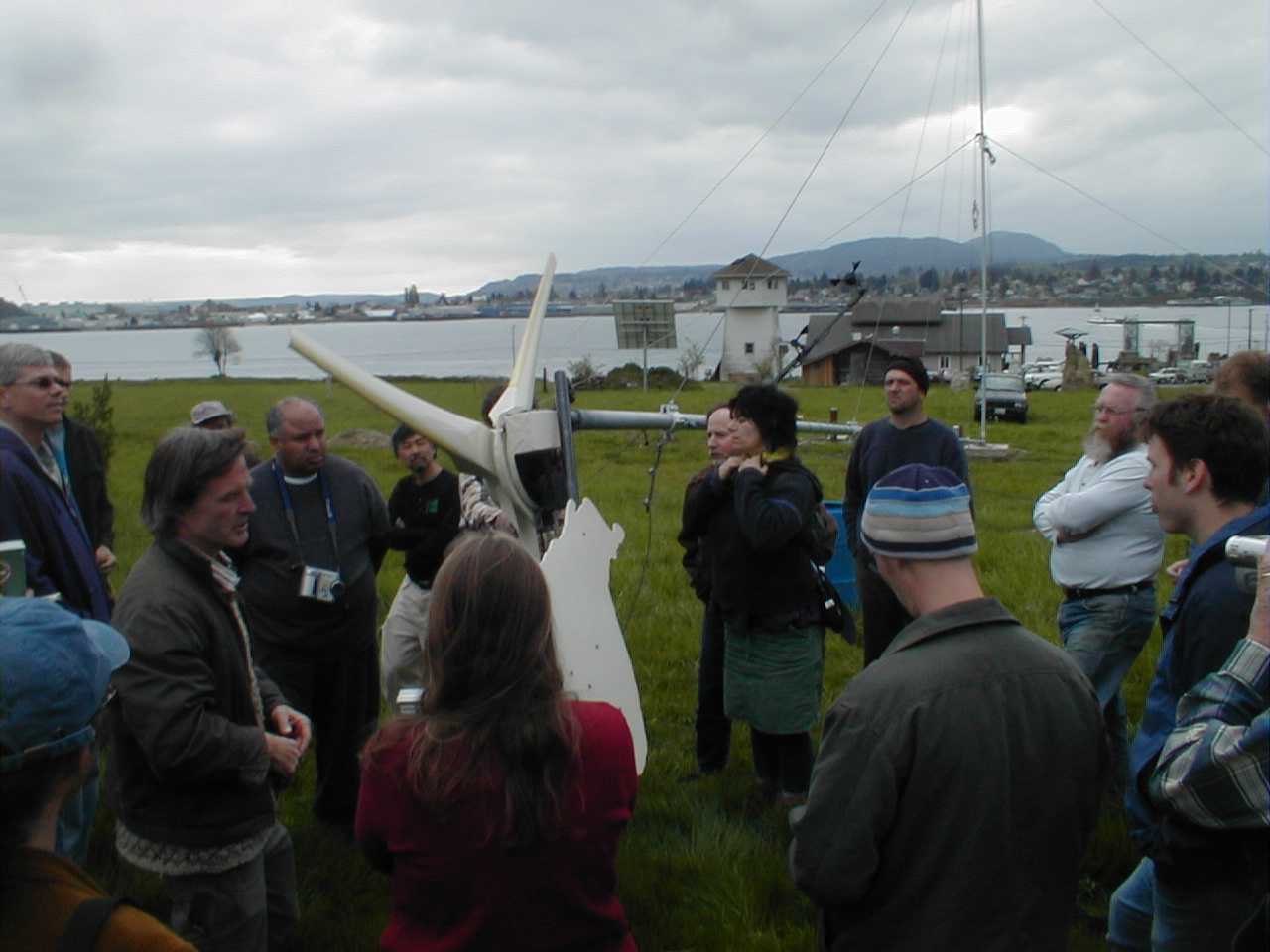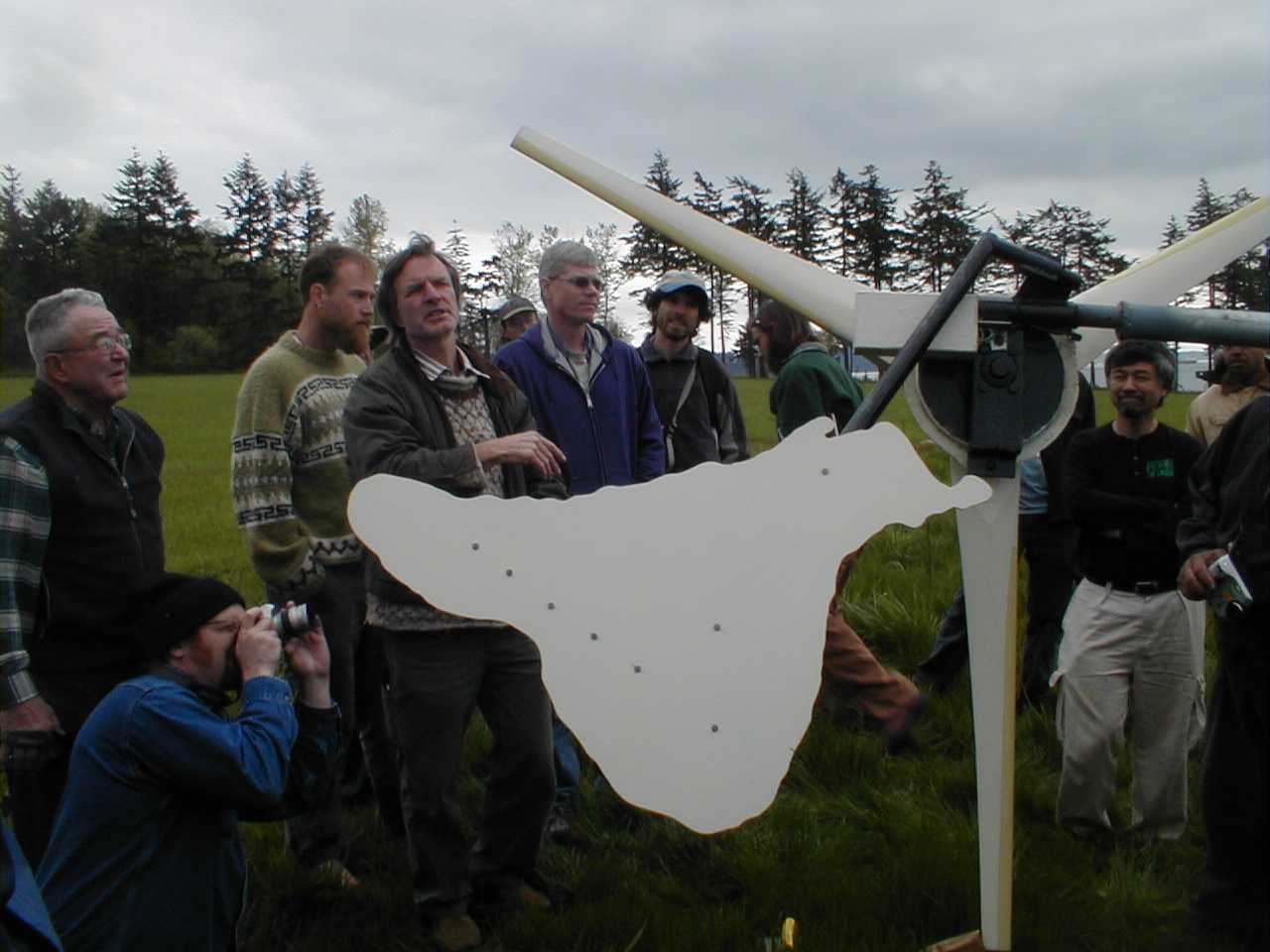 ---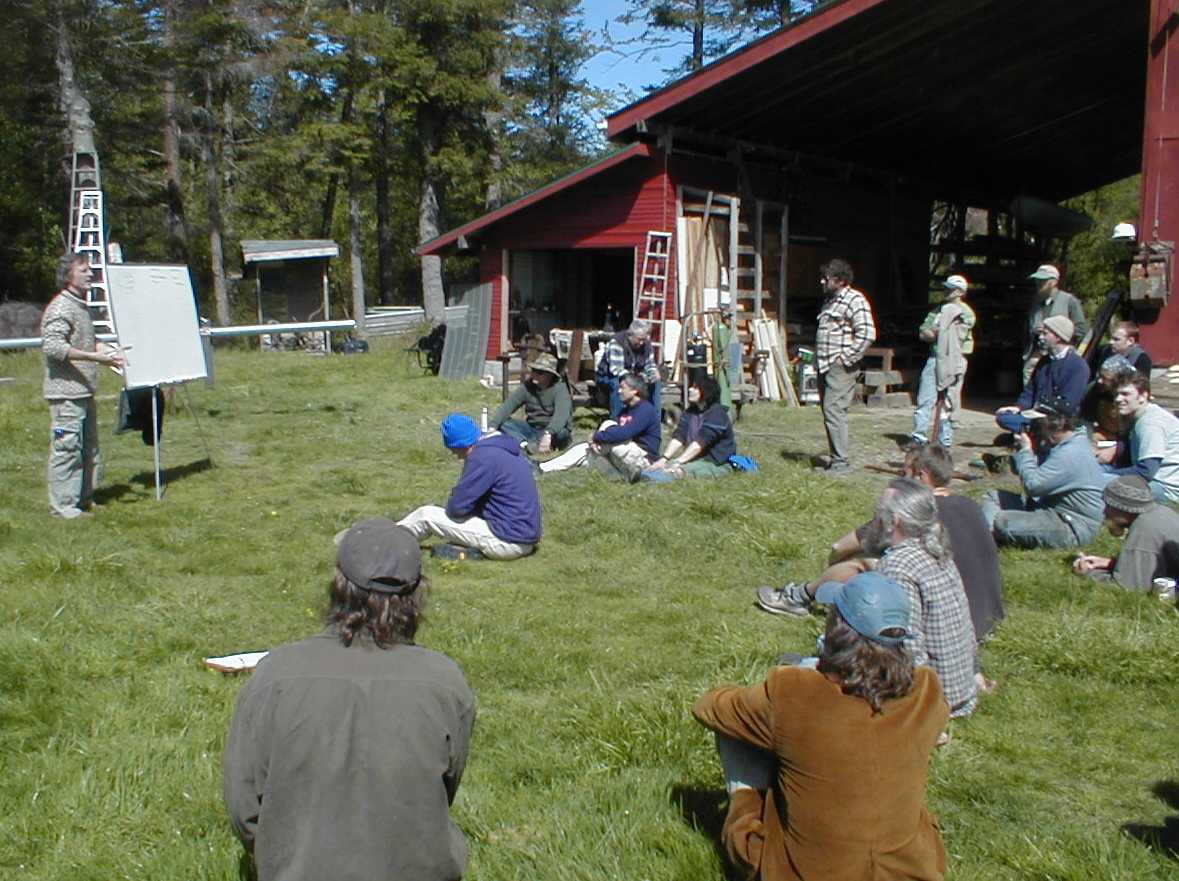 I tried to fit in a brief theory session after lunch most days.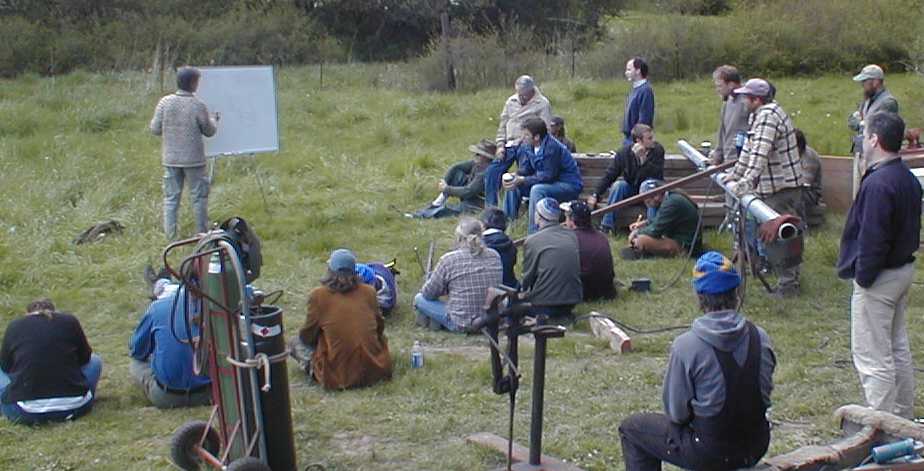 ---

This year we had no wind on the last day. We erected both machines on short guyed towers but neither of them did much.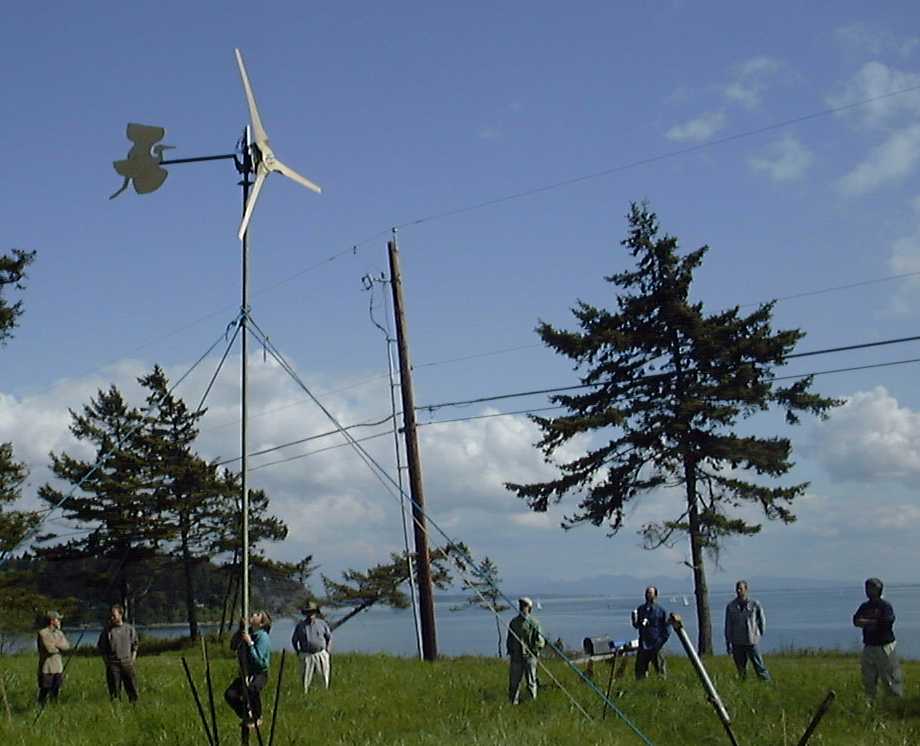 ---

We put the 8 foot machine on Ian's dumptruck and did some testing up and down the road. Not very scientific but interesting and lots of fun.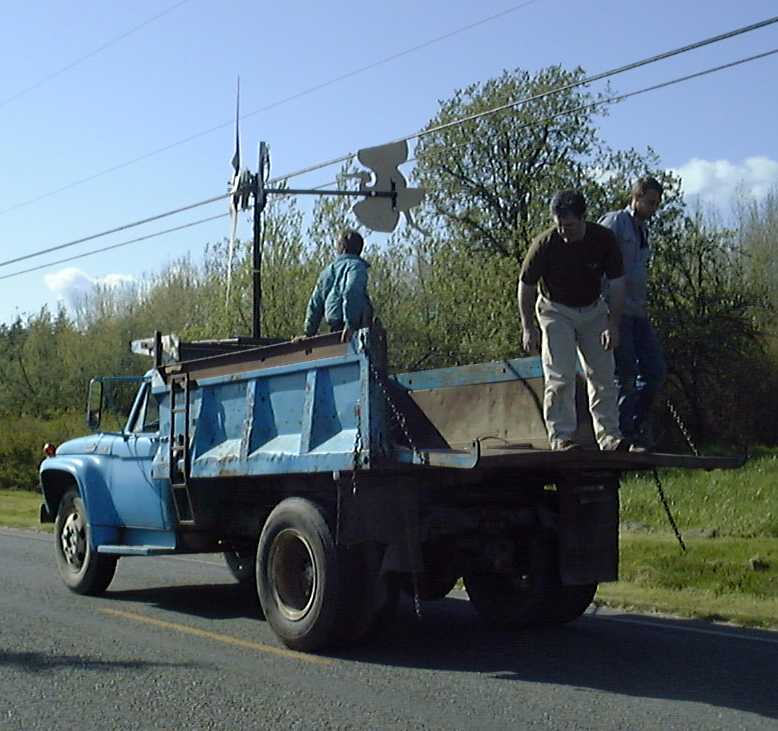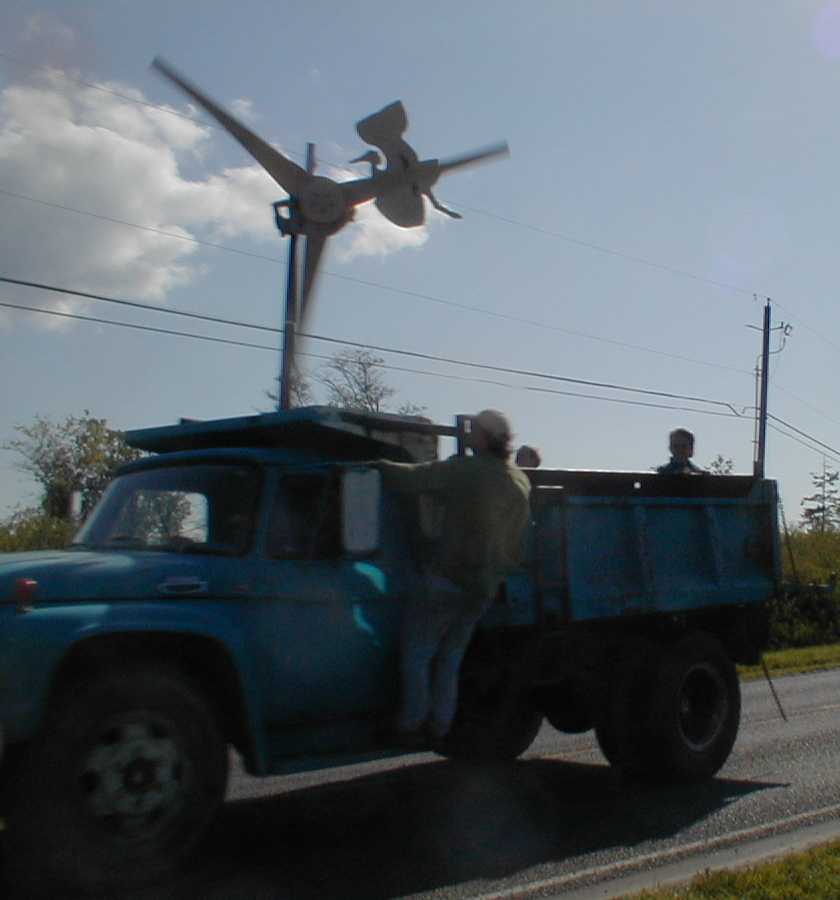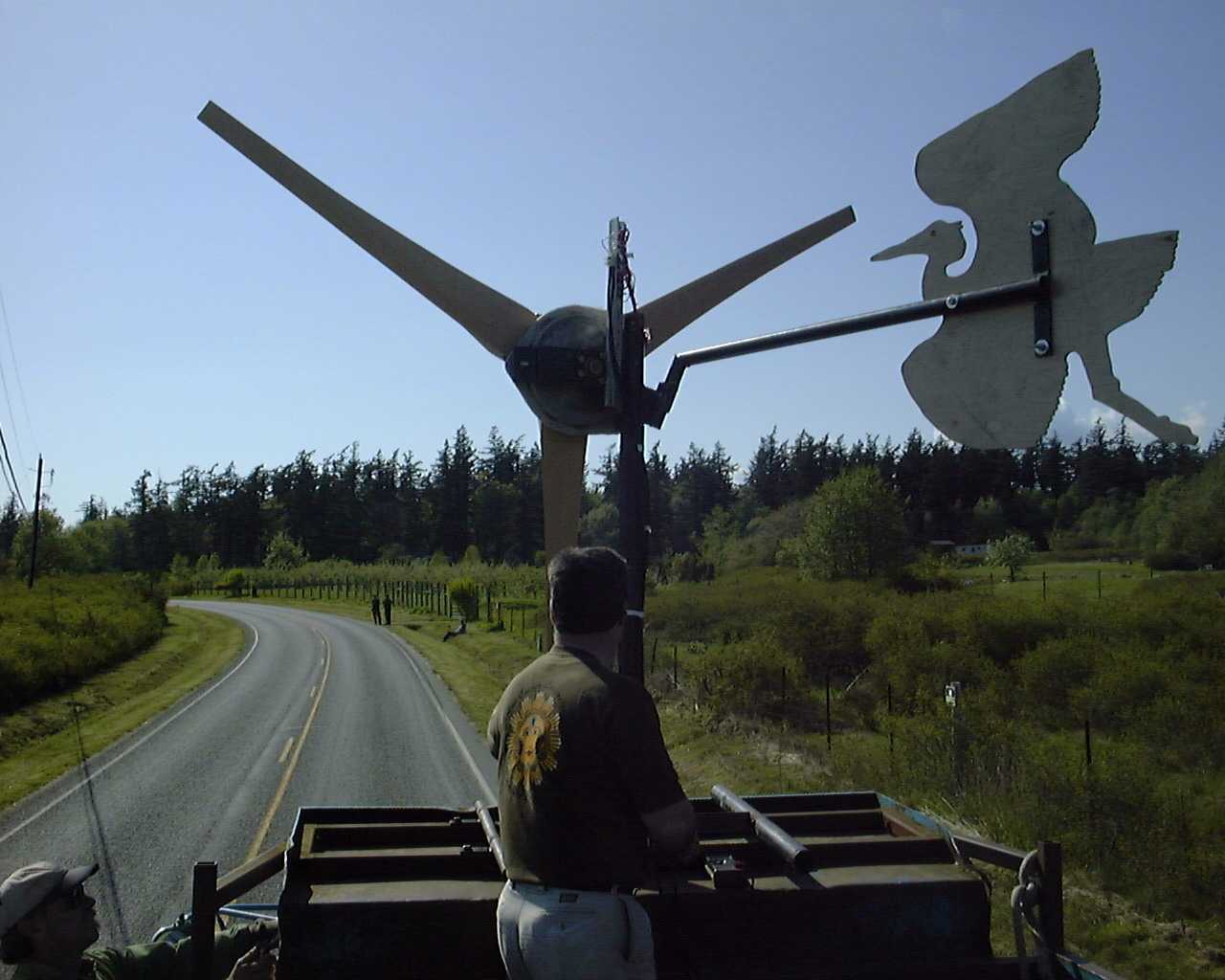 ---
The big machine was a little too large to fit under the power lines along the road so we didn't get any truck testing done with that. However, we did mount the alternator on the back axle of Doug's truck and drove it pretty hard, putting about 2 kW of continuous power into charging the batteries of Ian's little electric vehicle, the Skog.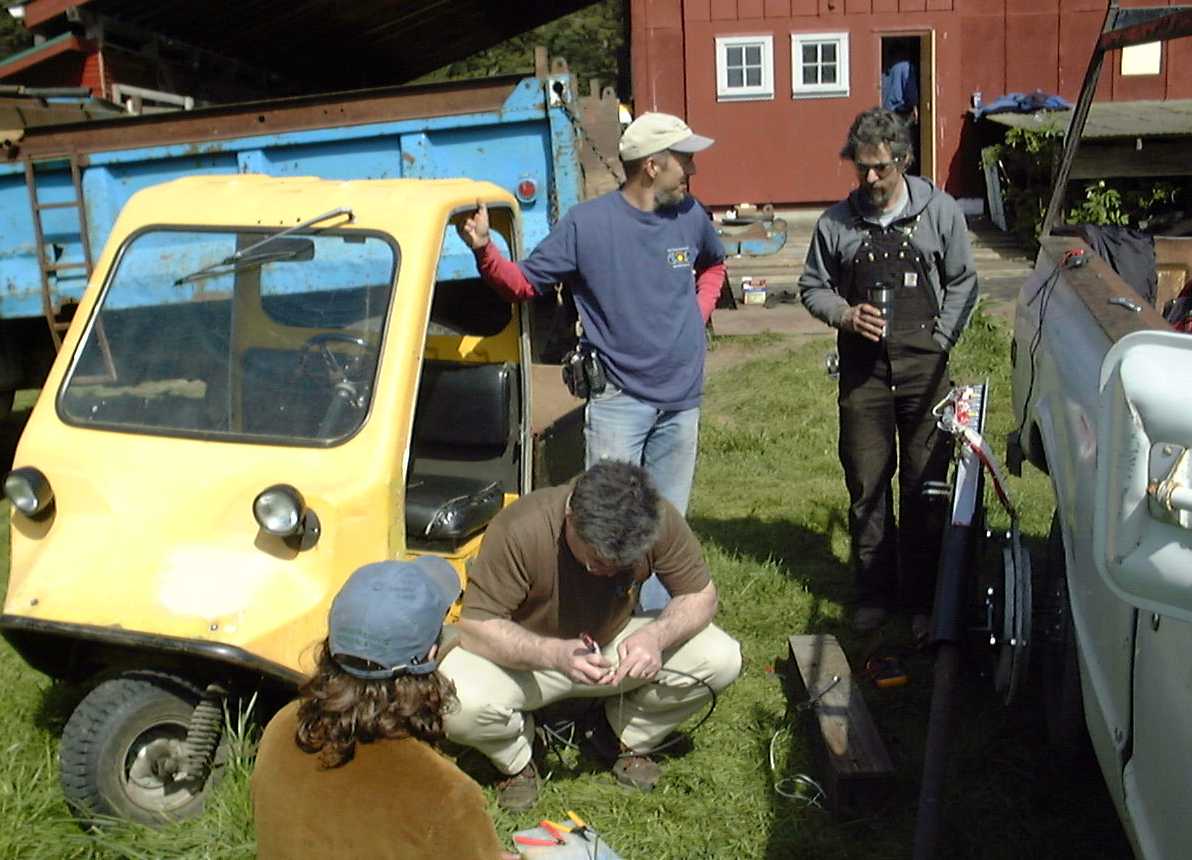 Here Brian is wiring it up watched by Ian and Andy. Dan Bartmann in foreground. We could not run it for long because without cooling it soon got very hot. Brian looked worried. It was his machine to take home and play with at the end. Up in the wind, it'll do fine, but next to a truck exhaust was not an ideal place to run hard.

Brian is a local electronic engineer with his own consultancy business and he plans to creat a controller for this alternator so it can run at variable voltage. Low voltage is best for low windspeeds and higher voltage will work with better efficeincy in stronger winds when the rpm is higher.
---

Later we put it up on a pole and got cut-in voltage out of it in next to no wind, but it never seemed to be worth fetching any batteries for it.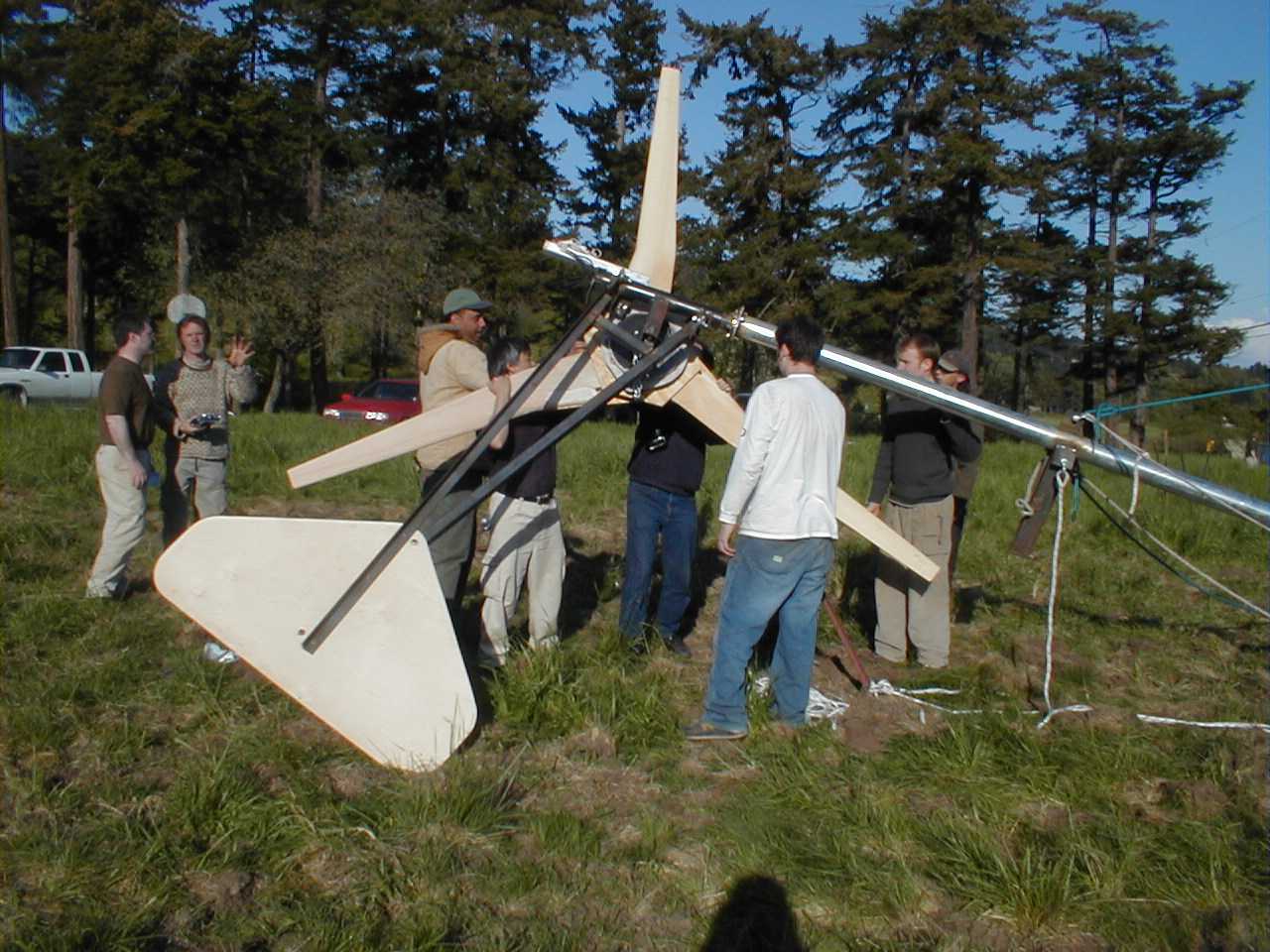 ---